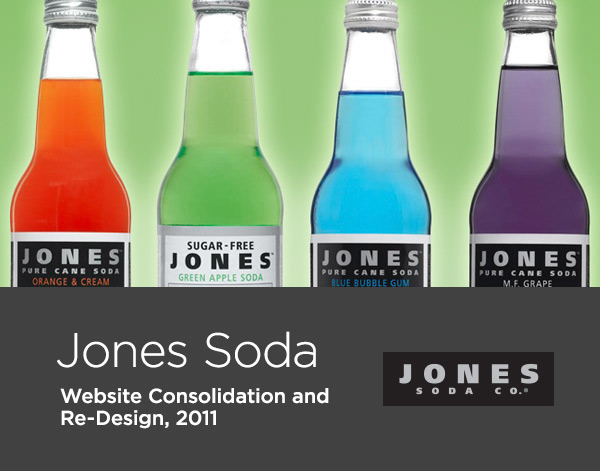 Jones knows good soda. And with unique flavors such as Pear Tree, Berry Lemonade, and FuFu Berry, it's no wonder Jones Soda Inc. is one of the most innovative and recognized beverage distribution and manufacturing companies in the market. So, when our friends at Jones approached us for a complete website redevelopment and a fresh interactive experience, we knew delivering originality and utility would be just the thing to amplify their already strong consumer base.
firegiants was asked to redesign Jones' entire digital footprint. To achieve this, we needed to reconstruct their existing information architecture to obtain a more cohesive foundation. In keeping up with Jones Soda's existing success and techniques with consumer interaction, it was also imperative that firegiants create an engaging custom soda label-making page in addition to integrating a user friendly eCommerce configuration to make online ordering a cinch.
After thorough exploration, firegiants created a standardized user interface and personalized templates that supported the various content and business units of Jones Soda. With a modern design and simplified content intact, we created a new page to involve consumer interaction, in which users were able to create custom Jones Soda labels for their online orders. How was ordering possible without an eCommerce configuration, you ask? After much consideration, the firegiants development team chose the Magento platform for eCommerce integration. Jones Soda Inc. now has a new online presence and a site that maximizes shoppability for its devoted and interactive consumers.